Joined

Dec 11, 2013
Messages

1,043
Reaction score

8
Ok that title might be a little misleading but it got you here and reading so here we go. I killed a bird first week of the season, and with very little time to hunt with two kids, coaching softball, and the on going house projects I was fine with that one bird being my one and only bird. Some of you might have read a few of my deer hunting adventures and may have read about the unfortunate happenings of my daycare providers family. Long story short my daycare provider is in her early 30's I would guess, married with two kids, lives at home still with her other sister and two brothers. One brother suffers from cerebral palsy, and the other one autism. They use to hunt with their dad quite often. Well dad died of an completely out of the blue massive heart attack last October. I ended up taking both boys our deer hunting a few times last fall, no kills but a lot of good laughs. Well this spring one of them has been after me the last week or two about turkey hunting so I told him I'd take him out this morning for a few hours before work. After talking with a landowner I had a decent property ready for him. Even put a lone long beard to bed Thursday night.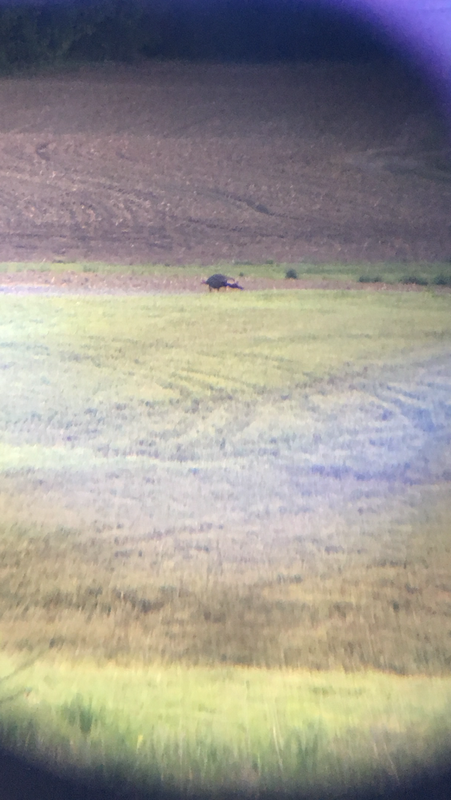 I was picking AJ up at 4 and off to the farm we went. To say we both were excited was an understatement. He'd only ever been turkey hunting once, and never heard a turkey gobble. I figured with our situation and setting up 100 yards from a long beard we'd atleast hear a gobble . . . right . . . Wrong. We set-up and just when you think you have it all figured out is when the turkeys kick your butt and drag you through the mud. We heard 3 faint gobbles from a long ways off and that was it. At 6 we decided to go for a walk out and around some corn fields, and in the direction of the early faint gobbles. We'd call every 100 or so yards and nothing to show for it. Lots of tracks in the corn fields though so we knew birds were there. We came to the last corn field and we decided we'd finish the circle and head for the truck. We crossed a beaver swale and got into some mature hemlocks with some blow downs and I stopped to call when I heard something rustling in briars and wouldn't you know it a coyote pup! He saw me the sametime I saw him and he laid right down and curled up next to some sticks to try and hide knowing I was probably no good. I looked over at an uprooted blowdown and it was all dug up with holes going in and out. First coyote den I've ever found. I took a quick picture of the little guy and left him be.
After leaving the den we popped out into the last hayfield and could see the barn. With a thin strip of trees separating the hayfield we were in and the cornfield we started in I figured we might as well just check the cornfield before heading to the truck. Would you know it a big strutter with 2 other birds about 400 yards down the cornfield! I told AJ here's our chance! We dropped back into the woods, and into a drainage ditch paralleling the edge of the cornfield. We cut the distance in half before even making a call. We belly crawled to the edge of the woods and AJ got set-up. There was a slight hump in the cornfield about 40 yards between us and the birds so I belly crawled out 20 yards and stuck the decoy in high enough so they could see it, and back I went and set-up over AJ's shoulder to hopefully coach him through it. I figured it was a long beard, and two hens so I was going to try and get aggressive with the hens and get them to come over. So I started calling a little bit and they were yelping back! I'd mimic everything they do, and they would get more and more vocal. Then the strutter started to get into it and he'd gobble almost everytime we'd be cutting back and forth at eachother. I moved up on my knees to see over the hump to see where they were at. When we started they were about 200 yards, now they were only 70ish, and coming. I told AJ to get ready b/c when he sees them they will be in range. This is when AJ said something I didn't think I'd hear in the turkey woods. He turns to me and goes "Ryan I'm so excited I think I'm going to cry!" haha. He was visually shaking lol. I told him to cry after he shoots his first bird haha. With a minute of this exchange I could see a fan. I told him to get ready he's coming. Then the other two birds came around the side and to my surprise they were both jakes, and coming for the decoy. They got to 25 yards as the tom stayed at 40 and never offering a shot. That's when AJ moved a little to much and the jakes picked him off PUTT PUTT PUTT. I told AJ its now or never take one of the jakes. That's when we both realized he hadn't taken his safety off yet and AJ was visually panicked. He finally popped the safety off and the jakes were getting ready to bugger outta there! I told him he needs to do it now or never PPOOOWWWW. I was waiting for the bang flop since they were only 25 yards, but instead it was two jakes frantically trying to get out of there! They finally got their feet to them and were in flight in a matter of seconds! Clean Miss! We found 1 or 2 feathers but that's about it. We went for a little walk in the direction they flew for due diligence but nothing to show for it. I've missed birds before, I've been with buddies that have missed birds, and it usually is some ground kicking, some choice words, gun threatening, but this was very different. Both of us were smiles and even shared a high five. It was the happiest missed opportunity I've ever been a part of haha. I ejected the shell for him and gave it to him, and told him "something to remember the day with" All in all a good fun day.