Joined

Nov 12, 2011
Messages

3,606
Reaction score

15
Location
Look forward to this trip all year...in fact I start thinking about the next years trip on the 7 1/2 hour trip home! We had nearly perfect hunting weather that ranged from good n cold to 45 degrees most of the week with a lot of snowy days combined with some stiff winds that made you glad you had your tree harness on or a ground blind to sit in! As has become tradition we stopped in Oneanta for some awesome Brooks Barbeque on the way up. It?s a great midway stopping point.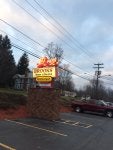 Opening Day...is there anything better......sitting in your stand in complete darkness watching the stars and waiting for legal light to come....It?s as close as a man gets to feeling like a kid on Christmas! Upstate NY opening day is almost like a National holiday....as darkness gave way to legal light booms and cracks of rifles could be heard from
Valleys, fields, and townships as far as sound would carry. It?s truly one of my most favorite times of the year. Three yearlings snuck in behind me and then a fourth a small spike about mid morning but they were the first deer of the day.
A Little background here. This morning was a bit nostalgic for me. I was carrying my Dads vintage 35 Marlins LA. He passed away 4 years ago....and in his old age he kept the rifle in the furnace room of his home and it became a bit rusted. I had wanted to have it refurbished for a few years and with the prompting of Dluke I decided to go for it. Dan did all the wood work for me and he does an awesome job...I took the rifle to a Russian gun smith in Natick to have it completely refurbished and between the gunsmith and Dan the gun has a new life. I purchased a 1960?s Leupold scope to have mounted on top to help keep the rifle looking as it wood have been back in Dads younger days. Here?s a few pictures to show you the transformation.