We estimated the buck to weigh in the 160 to 170 range. He was a short buck. The weather was absolutely fantastic. Very little wind and a bit too warm for afternoon hunts.
Buck sign everywhere! It was ridiculous the amount of buck sign as compared to Maine. Night and day really...
TUESDAY
Morning hunt in a tree stand near a rock wall. I did not see anything while on stand. I decided to stillhunt for a couple hours. I made my way out of the hardwoods onto a cart path. i stopped behind a clump of poplar trees that grew up in the road to glass a bit. See picture below.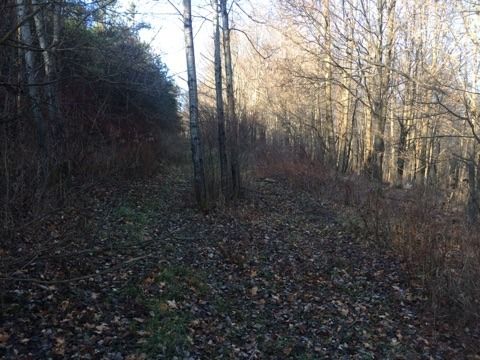 While glassing i hear crunching, deer walking to me.... I turn and get ready....Its walking right to me! The deer turns out to be a doe, no wait...multiple does, the 4 does from yesterday. Oh crap i have no choice but to freeze. I figured they would just walk past me into the thicket at my back. Nope they stop and stack up in the road literally on the other side of the trees. 10 feet or less... I did not look at them, just looked straight ahead and could see them in the corners of my eyes. Well the lead doe knew something was up. she looked at me up and down...stomped... ears pointed and tail up. the others did not pay no attention to me. I looked like a statue frozen but i have a bad back and don't know how long i can hold out like this... Finally the lead doe just didn't like it so she turned and made they made their way back into the hardwoods slowly... they disappeared into the brush. WOW what a close encounter...there was no wind at the time at all but other than scent on my boots I don't do any kind of scent control. That made my whole trip....
Evening hunt I did not see anything but Teddy, my brothers buddy shot a spike horn buck we forgot to take any pics of. He was also stillhunting when it walked up to him.
Wednesday i was alone in camp and it warmed up. i did not see anything all day that day....
Thursday morning hunt i did not see anything and it was quite warm for the afternoon hunt. i sat at a new location to me, near the border of the property. at about 4:00 I heard a shot pretty close to me. About 5 minutes later i see deer running just to my 11 o'clock. I quickly get the scope on them. damn it...its the four does i got to know real good and the lead doe is injured but i can't put her down....too bad....And that is how my 2015 deer season came to a close....unless i go back for the black powder season......