Joined

Aug 22, 2007
Messages

2,296
Reaction score

183
Location
Last deer season I had my rifle jam up on me when I tried to work the action and then the slide got way to loose and rattled like a bastard. Haysaddle offered to take a look at it which was greatly appreciated and we broke it down the best we could and couldn't find any issues. However we could not get the action tube threads to break which holds everything together and threads onto the receiver. That's a good thing I guess but I still thought something was iffy and was told that if may be this little o-ring on the action tube that causes resistance and reduces rattle and play.
I checked out how to fully break the gun down on this awesome video
https://www.youtube.com/watch?v=Y7XtcSLPEGM
and decided to give it a try and was successful but only after a bit of head scratching research.
What the video does not tell you is that Remington uses "permanent" lock tite when they screw on the action tube. So once I figured this out I new I needed some heat to break lose the threads. About 350 degrees with a torch did the trick and I used a 5mm punch that fits snugly into the nice little holes in the action tube put there specifically for unscrewing it. Once that was taken care of, the rest was easy.
As you can see in the below pic, there is no o-ring on the tube where it supposed to seat.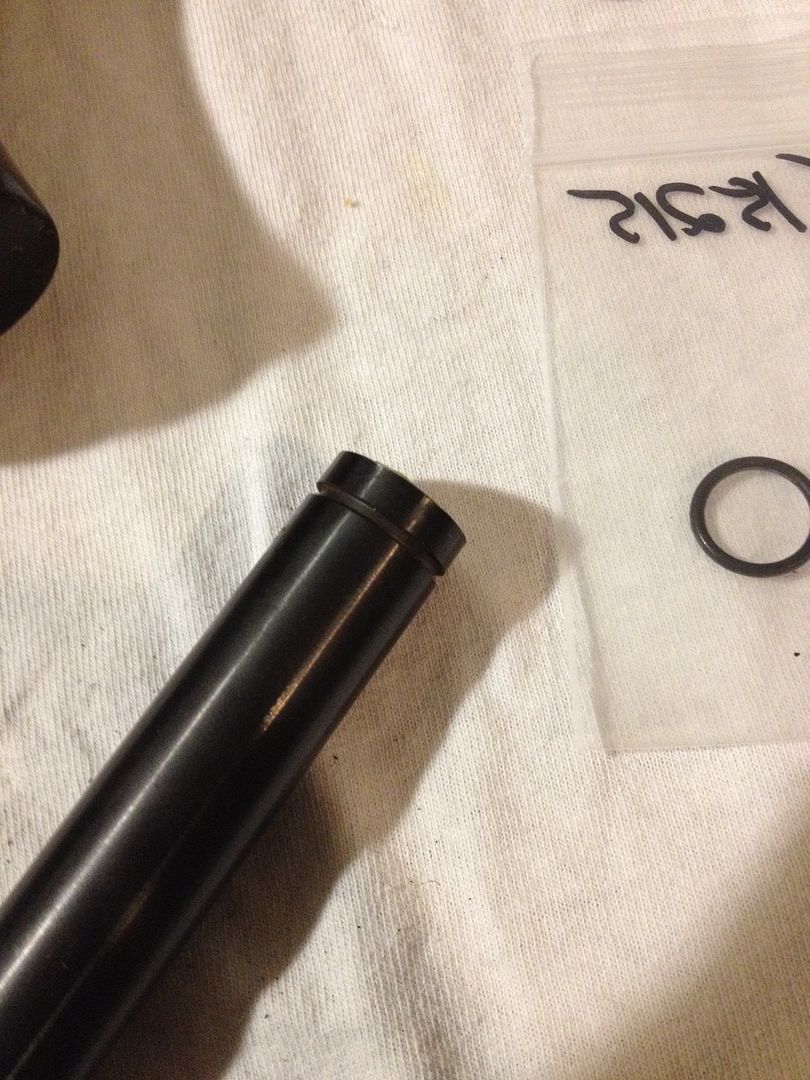 I ordered a new o-ring directly from Remington for $4 and free shipping so can't complain there but it certainly does seem like a fragile little thing.
New o-ring took about 10 days and here it is installed.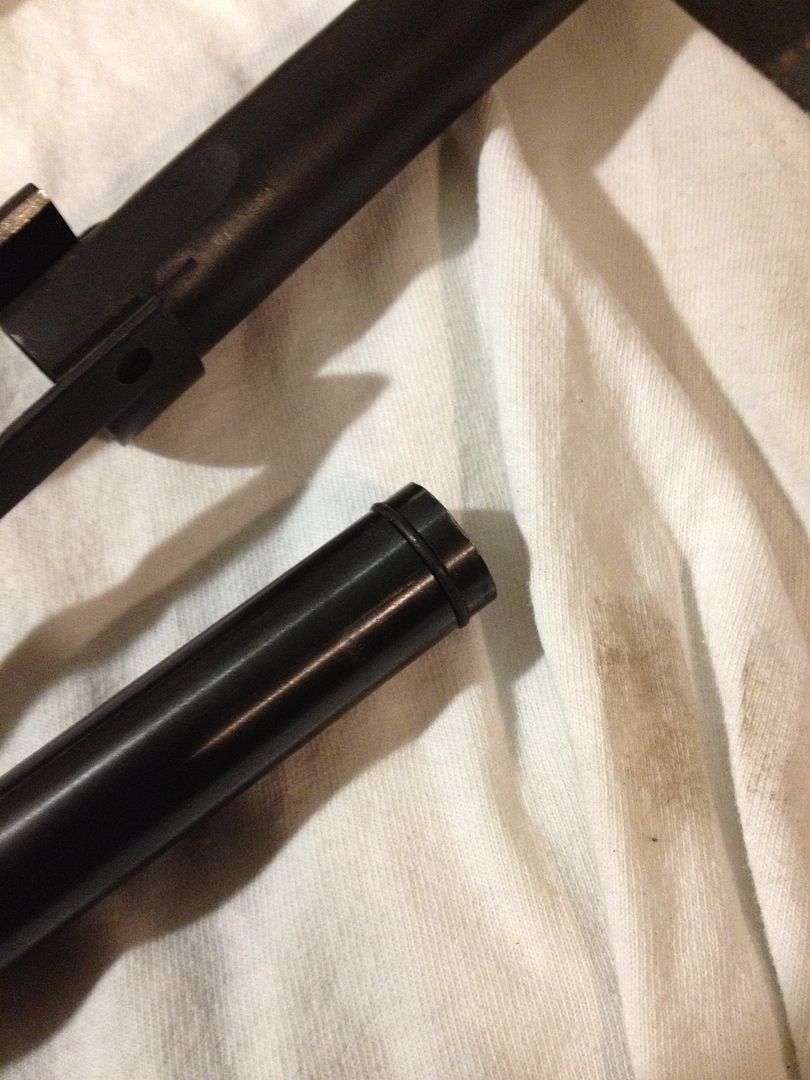 Make sure you clean up all your slides, sleeves and tubes before putting everything back together and also put a little lubricant on the o-ring and inside the action bar assembly that the o-ring and tube slide into. I didn't the first time and there was enough friction in there to push the new o-ring out of the seat.
I used blue lok tite this time and hoping the threads it will not come loose but I plan on shooting the hell out of this gun before the next season at the range so will know if it does.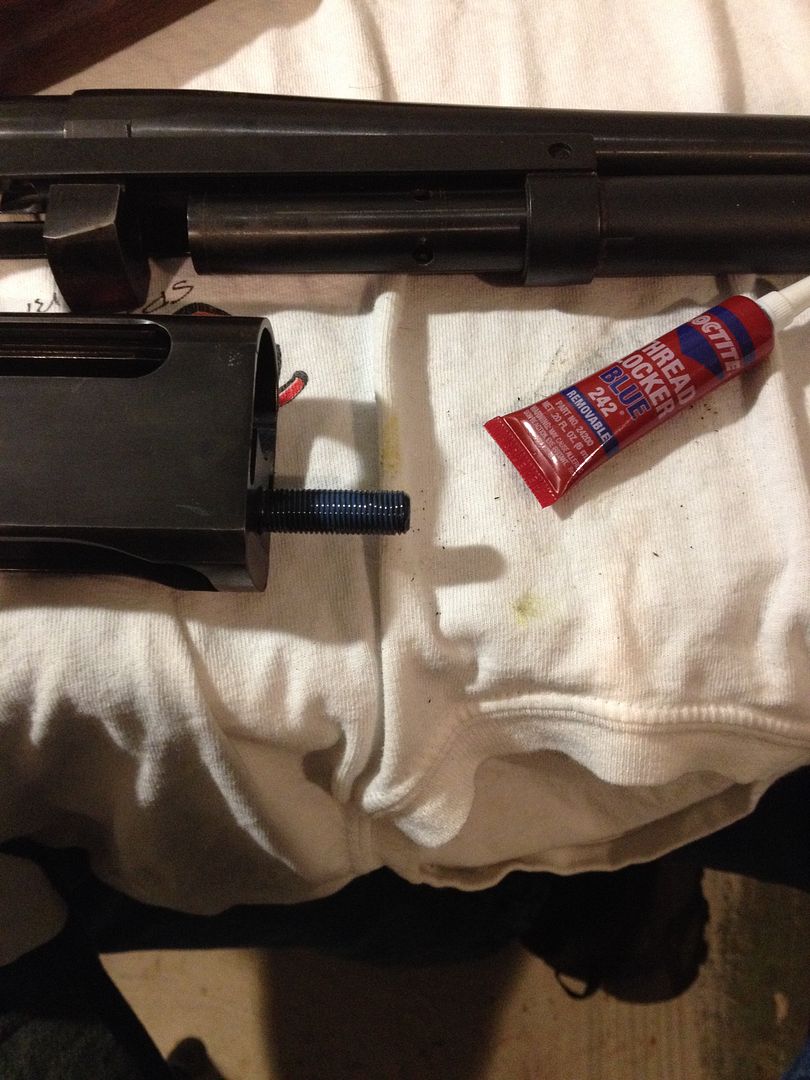 Once it was all back together the action felt good as new, no rattle and got rid of the looseness in the action. I've got a feeling this will probably happen again as I can imagine a bit of water in there and freezing temps will do a number on the rubber o-ring, so at $4 a pop might keep some in stock. Also, there are quite a few sharp edges on various internal parts that I put some emery cloth to just to be on the safe side.