Joined

Aug 12, 2004
Messages

12,873
Reaction score

119
Location
I haven't been posting much here and it's been a SLOW season in CT archery for me. Here is a quick update for MA and CT
Started hunting CT on opening day. Saw nothing in am but had 3 under me in the dark, saw a big button buck that had lost all of its spots, thought it was a doe coming in for the PM sit.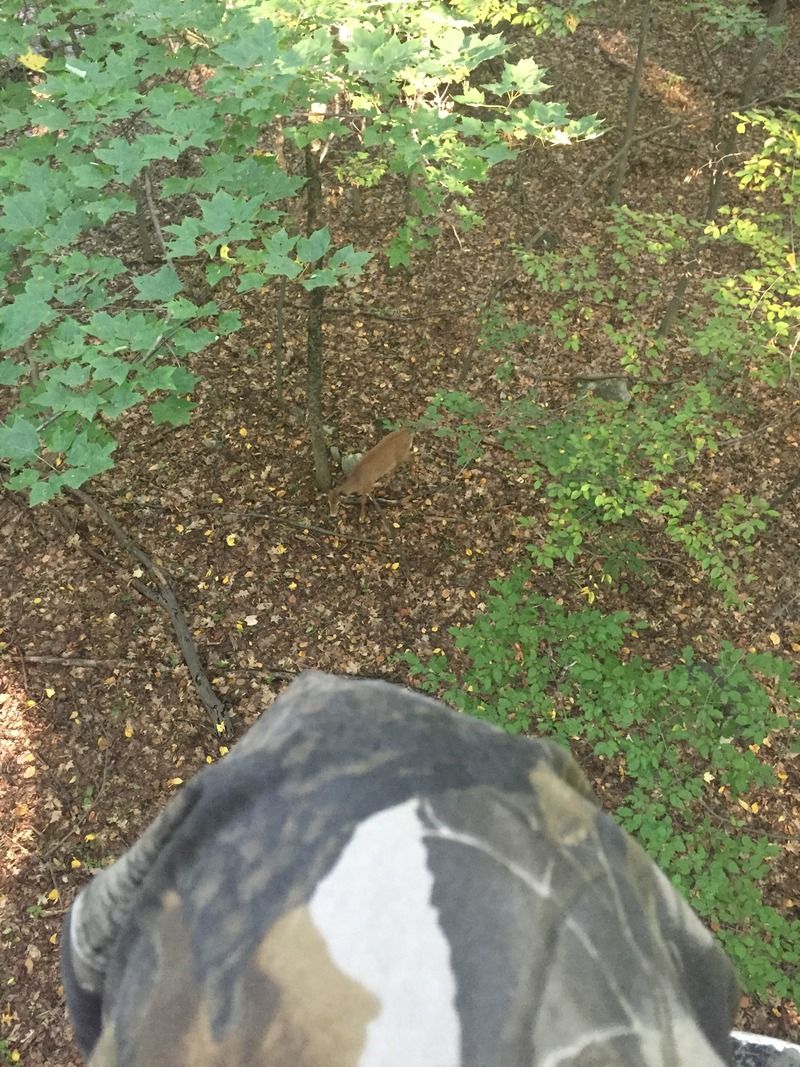 FOund 3 or 4 huge rubs while scouting a new piece of property...real early for rubs like this but they were definitely fresh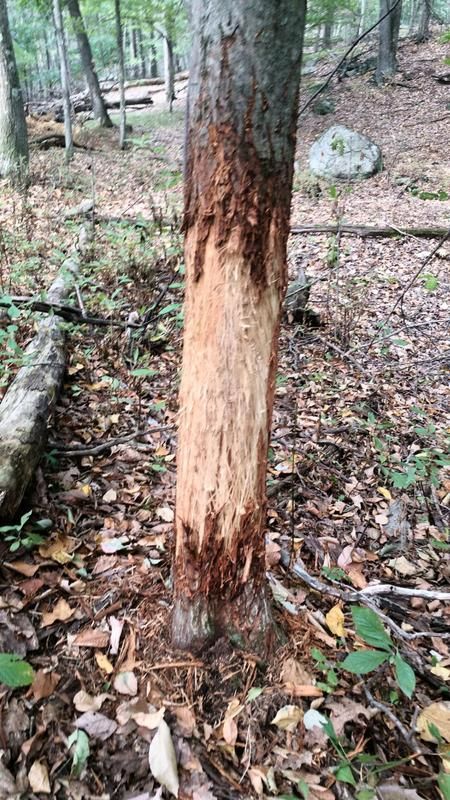 CT has a TON of acorns this year...reds, whites, blacks, burr, chestnut you name it they had a banner year. THere are actually whites that were solid nuts that are rotting on the ground right now. Deer are moving very little. Before the acorns fell we were getting lots of pics but not any more. Deer sightings and opportunities are way down.
I had a big doe come in by herself on the evening of 9/26. I thought for sure she was gonna pass by out of range but she changed course and walked behind a blowdown at 34yds. I bleated at her and she stopped. I drew back and took my time settling the 30yd pin behind the shoulder half way up her body. I squeezed off a great shot and watched as the arrow sailed over her back. I was dumbfounded. She ran off and circled around me. She gave me a wide open broadside shot at 42 yds. Seeing I shot high the first time I aimed for split my 30-40yd pins...naturally that arrow sailed harmlessly just under her. I can tell you one thing though...with the light up nocks I saw my arrow flight real good and the arrows are flying great LOL.
The next 3 weeks in October were very uneventful with an occasional deer seen but nothing in range. I hunted a lot but had very little to show for it.
MA opened on 10/19. I have a good buck on camera near home and hunted opening night hoping to see him. As I was walking in I slipped while crossing a stagnant/muddy mucky area...did a faceplant in the muck...bow went flying and I snapped the cable slide...happy happy happy. Right before dark I heard a deer walking behind me across the brook on the edge of a bog. I could just make out movement but there was no way the deer would make it over to me before dark. I ended up blowing it out of there on the way out...I'm pretty sure it was the big lone doe I have a bunch of pics of this summer. THere is very little sign around though.
On thursday of opening week I took a walk into a spot near work that I hunt sometimes in the afternoons. It looked great in there, lots of buck sign. I hunted it Friday afternoon and had 2 does come out feeding on acorns...no doe tag though. Right before dark another deer started breaking branches in the swamp and came out and pushed the 2 does back where they came from...I think it was a small spike/4pt. I put a camera in there that night and went back to check it on Monday...lots of activity in there, prolly 4 different bucks with this one being the biggest on camera
That Saturday I hunted CT and saw 3 deer in the afternoon...one of them was a big spike that came out of the swamp as I was climbing my tree...naturally.
10/26-11/1 I hunted mon tues and thurs afternoons knowing that with the time change it would be tough to get back in there. Every day I would have more pics and new scrapes would get opened up but I didn't see anymore deer.
Hunted Friday morning near home and saw nothing and not much sign so I headed for CT at 11;00 for an afternoon sit and hunt all day Sat and sunday morning. Sat morning I saw a doe and a skip from my tree on a lawn across the street from where I was hunting. Sat PM we went into a state land spot that we haven't hunted in a long time. Tons of tracks but I saw nothing. Sunday morning I hunted private land spot where we have a feeder running...a spike came walking in an hour after sunrise. He was coming in perfect, at 60yds he had his nose up in a tree making a scrape, I ranged some trees in fron of me for when he would walk up on the knoll I was on. He turned and started coming to me. When he got to 50yds the feeder went off...I've never seen a deer run away so fast in my life it was comical. I wasn't happy but you gotta laugh.
11/2-11/8 I hunted Tuesday and weds morning near work and had a real good buck come cruising the swamp edge on Tuesday. It was either the one I have a pic of or one bigger than that. He stopped at a scrape at 40yds and turned like he was gonna come right in front of me but instead he continued along and out into the swamp, I tried bleating and grunting to him but he kept going.
Friday morning I was back in CT. It was 63 degrees when we left the truck! i SAW 2 DOES but they were well out of range. In the afternoon I never got to sit in my stand as my buddy hit a buck that we were tracking until late that night.
Saturday morning was an exciting hunt. I got dropped off and set up on state land where I had planned to hunt Friday night. Right at first light I could hear a buck grunting out in the swamp in front of me. Not excited grunts or chasing grunts. I bleated a few times but got no response. Around 7:30 I turned behind me and saw antler. It was a big mature 6pt. I watched him for 15 minutes feeding around. He was only 40yds away but there was a beech between us...I would just get glimpses of him here and there. At one point it looked like he was going to walk down into the swamp. I grunted softly and heard him grunt back. There is a great run at the base of the knoll I was on that went from me to him...I was just hoping he would take it. Finally I saw movement and a doe popped out from behind the beech heading down my run...Perfect. Then a skip came running out from behind the beech and ran to the top of the knoll and stood there all nervous looking at 25 yds. It put its tail up and trotted across the top of the knoll and back down into the swamp...naturally the doe followed and the buck followed too. I came to full draw and bleated with my mouth. The buck stopped at 35yds, just slightly quartering away with a sapling going up right behind his shoulder covering most if not all of his lungs. I settled the pin and just couldn't shoot. I might have been able to get the back of his lungs, but most likely liver would have been the result. He walked off following the doe and skip. I was pissed and heartbroken all at the same time. I know I could have gotten a lethal arrow into him and I know most people would have shot. I also know I did the right thing though. He was a good one. I didn't get a deer last year and I hadn't gotten one yet this year, nothing has gone my way and I was beyond frustrated. Everyone else is getting deer and I am just snake bit.
Sunday morning 3 of us set up on a big piece that we just got this year (where I missed and where the big rubs are) I heard deer waliking in the dark around my stand but they moved off in the dark. Around 7:30 I heard a buck chasing a doe off to my left. Crashing and heard him grunt but never saw them. I put my bow back on the hanger and looked up the streambed up on the hill about 150yds away and saw a deer walking. I looked quick through the binos and saw it was a small buck. I bleated loudly to him but he kept walking. When he stopped I bleated again and he snapped his head up. I bleated again and he came on a dead run pretty much to the base of my tree. I drew early as I was in the open. I held full draw for over a minute. He walked in, turned broadside and 9yds and I mouth bleated him to stop. The shot was a little back but I thought I smoked him. He ran tail up all the way up the valley...I couldn't believe he didn't fall. From the tree I could see the blood trail 70yds away. I got down at 9:30 and saw a ton of bllod but there were some chunks in it. I waited for the other guys to get there and we followed a ton of blood to where I last saw him. He was dead 10yds farther. The black cloud has lifted!!! I clipped one lung, liver, and stomach. I hit about 2" back from where I thought I did.