Joined

Nov 23, 2011
Messages

1,896
Reaction score

316
Location
I just got back from an amazing DIY mule deer hunt. If you like DIY deer hunting you gotta go try Colorado. I will try to summarize the trip and post some photos. First I would like give a special thanks to fellow HuntChat member Matt Breton (mbVT). Matt provided me with a phenomonol workout plan that I did all summer and fall to prepare for my hunt. Over the 3+ months I used his workout plan I lost 15 lbs, gained a lot of strength, and drastically improved my cardiovascular fitness. I went to Colorado feeling great.
We hunted a wilderness section of Pike National Forest. You can park your truck at several different trailheads... but there is no motorized vehicle access beyond that. Its pure boot power. We stayed in his pop-up camper at a public camping area in the forest rougly in the middle of the area we would hunt. Base camp was at 8,200'. Every morning we would drive to trailhead at O-Dark-hundered and hike in. We hunted meadow edges, burn areas, creek drainages anywhere from 7,900' to 9,600'. The temperatures ranged from 15F to 75F. I hiked over 56 miles during the course of the hunt, with most of it being fairly steep. The primary strategy was to get up high before first light to glass meadows and burns as the sun was coming up. I can't tell you enough how good the public land hunting is in Colorado. I saw over 75 deer and 30 elk over the course of a week of hunting. I passed up opportunities on spikes, fork horns, and 3x3's pretty much every day I hunted. We saw a good number of hunters everyday we hunted. However, with one exception all of them were either road hunting or within 800 yards of the road. We virtually had the place to ourselves once we got 1/3 of mile in.
There were supposed to be 4 of us in camp. Me, my buddy, his 12 year old son, and his dad. Unfortunately, last minute my buddy got called into work and was only able to spend the first two nights and the last night in camp. Myself and my friends dad both had buck tags, and his son had a cow elk tag. Me and my friends Dad took turns taking the boy for the day out to find elk.
Day 1: Got in and set-up camp around noon. Headed out to glass for the evening. 9 doe mule deer spotted
Day 2: First full scouting day. It was snowing. Got up high early and glassed a few valleys. Found a few groups of does out feeding and a herd of 22 elk! We jumped 2 shooter 4x4's on the way back to the truck. We were pumped for opening day!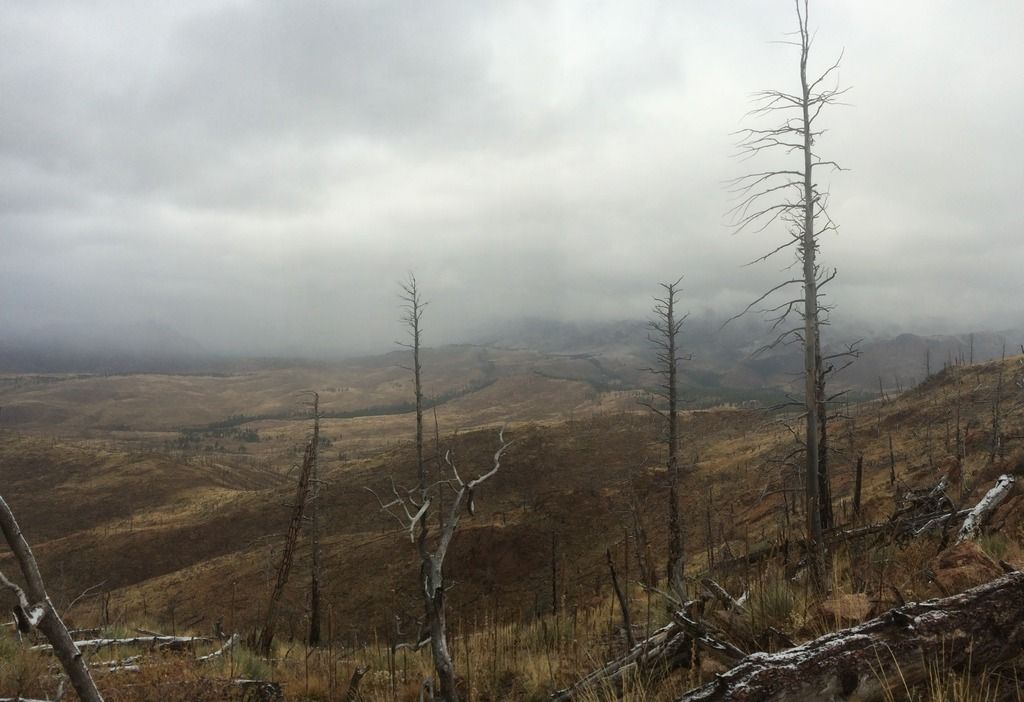 Last edited: